XRT2.1K Floor Standing Loudspeaker
2,000 Watt power rating
Ported 4-Way; Tri-amp & Tri-wire
Line Array design with 81 drivers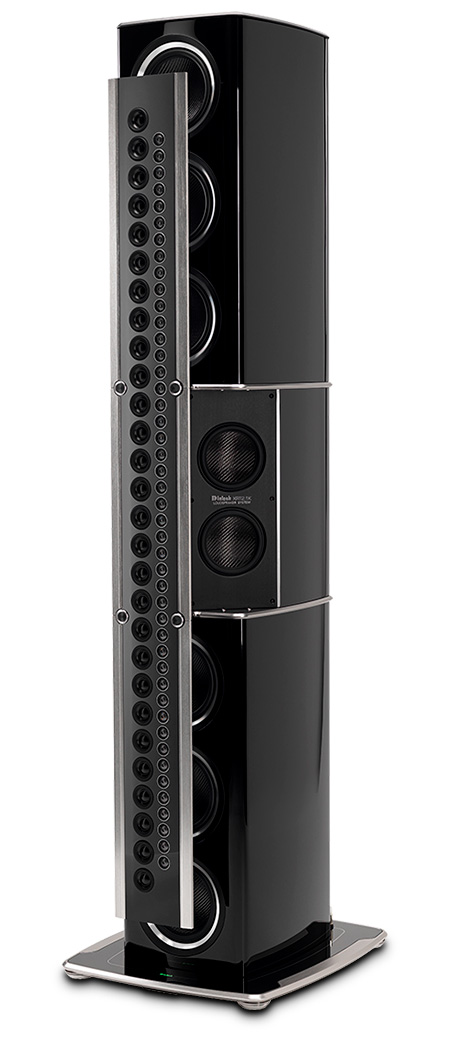 The XRT2.1K Loudspeaker represents the next evolution of McIntosh home audio speakers. Borne from our 45+ years of designing speakers, the XRT2.1K is a full range system that provides spacious sound reproduction with an unusually deep sound stage. Standing 7 feet (2.1 meters) tall, a pair of them will grab the attention of every person in the room. But when the music starts, the only thing people will pay attention to is the enveloping sound they are experiencing.
The XRT2.1K utilizes our renowned line array speaker principles to produce an even sound dispersion pattern. Listeners closer to the speaker will not be overwhelmed by extremely loud sound while those further away will notice hardly any drop off in sound level. The resulting sound is smooth and wide for all listeners, producing exceptional stereo imaging in nearly all listening positions.
"Blending a striking suspended array design with incredibly detailed sound, the McIntosh XRT2.1K Loudspeaker is a genuine marvel of audio technology. With even dispersion that still maintains pleasing stereo separation marked by clean highs, rich mids, and deep lows, the speakers are able to produce a sometimes startlingly realistic presence behind every note they play." - High-Def Digest
A 4-way speaker, the XRT2.1K produces excellent sound quality at all levels of the human audio spectrum. The unique left and right speaker each use a total of 81 drivers consisting of (6) 8" woofers, (2) 6.5" low frequency midranges, (28) 2" upper frequency midranges and (45) ¾" tweeters, to deliver a nearly unparalleled sound reproduction. The woofer and low frequency midrange drivers, housed in the large bass enclosure cabinet, are brand new designs that were specifically created for the XRT2.1K. Their extremely stiff yet lightweight diaphragms combined with a very long throw design ensures amazing extension on low frequencies. Located on the line array are the Aluminum–Magnesium upper frequency midrange and tweeter metal drivers, which have been specially customized for the XRT2.1K and feature neodymium magnets.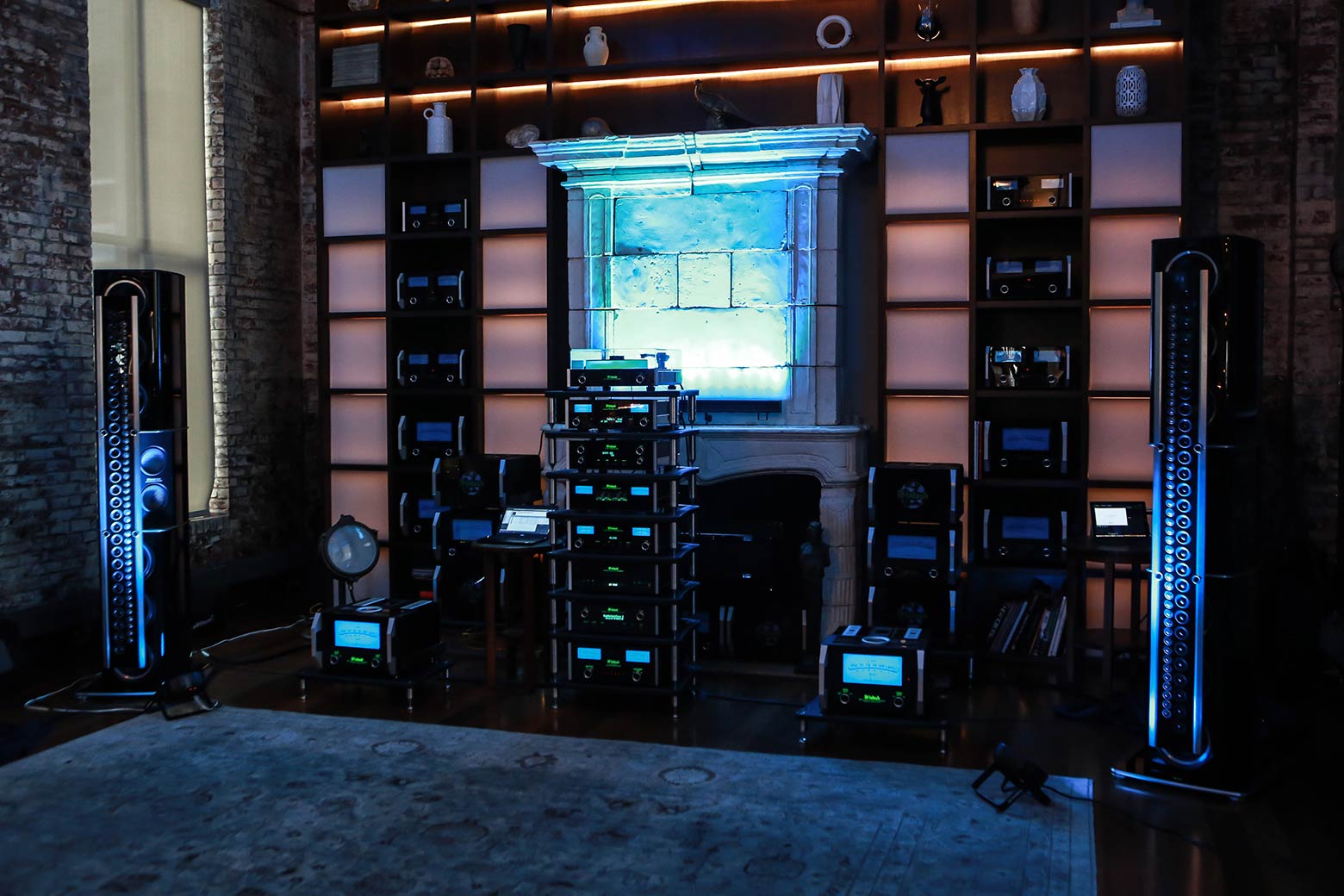 "What I was most taken with was the XRT2.1Ks' clarity and effortlessness of sound - not only with the U2 track ["Summer of Love"], but every recording played... it was wickedly detailed, clean, and lifelike. Most speakers would sound congested at such high playback levels; these sounded so pristine and unforced that I knew they could have played even louder without strain." - SoundStage! Hi-Fi
The crossover network is engineered to ensure an even frequency response over the entire audible range. It utilizes capacitors and inductors with low loss and high current capacity. The type of inductor used in each section of the crossover network has been specially chosen for high linearity, even at high power levels. This prevents distortion of the music at any frequency.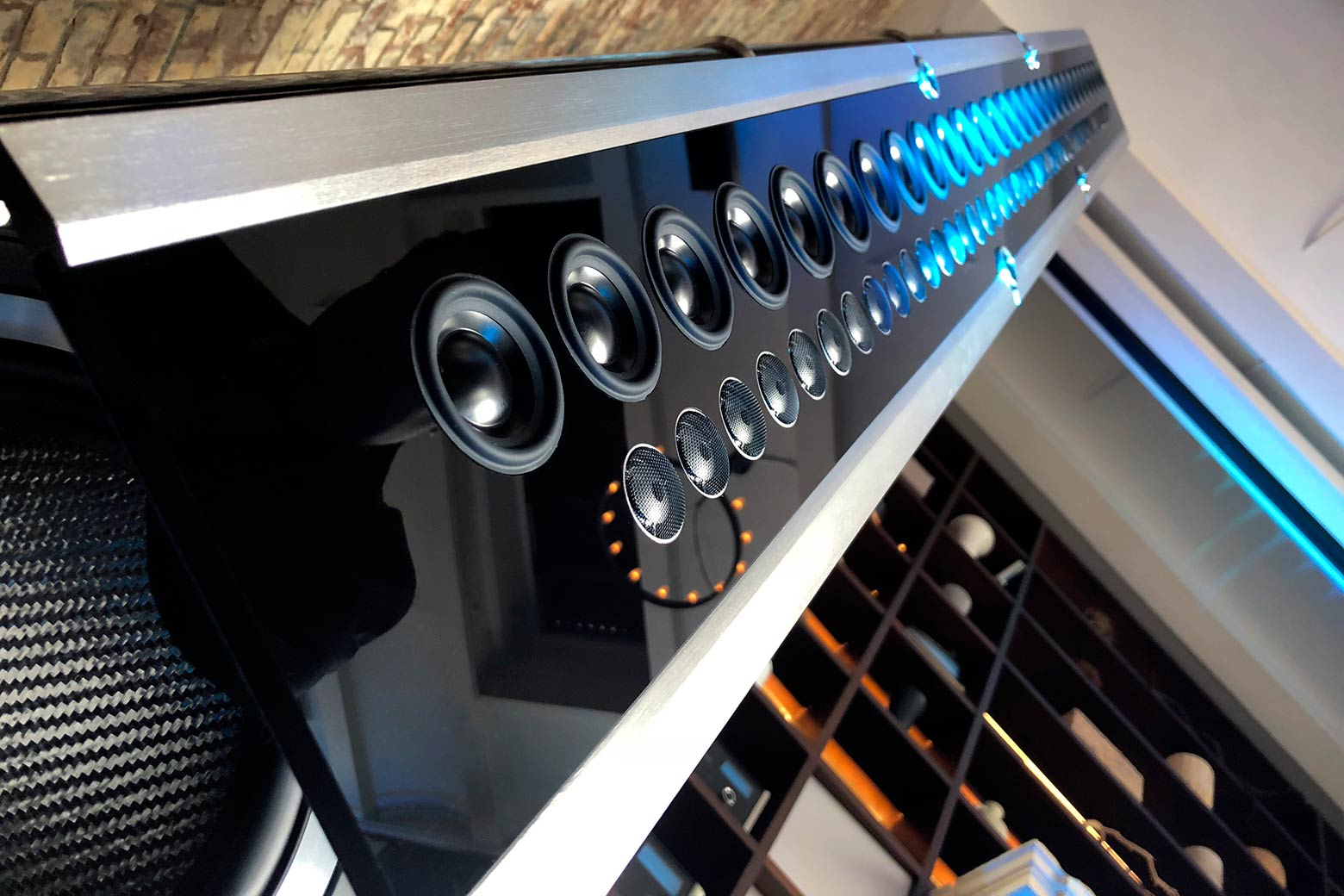 Visually, the XRT2.1K is as striking as it sounds. The reinforced bass cabinet is a combination of brushed and black aluminum and is finished with 7 layers of high gloss piano black paint. The line array mimics the timeless McIntosh front panel appearance with a glossy black center section and 2 silver aluminum end caps. It is suspended from the front of the bass cabinet via steel spiders that are capped with magnetically attached covers that look like a McIntosh control knob. The removable speaker grilles are attached via magnets and feature black knit cloth with high gloss trim. The cabinet pedestal is made of machined aluminum and glass; it is supported by 4 adjustable feet that allow the speaker to make perfect contact with your floor, thus eliminating a possible source of distortion or vibration.
Our patented, gold-plated Solid Cinch™ speaker binding posts easily but securely attach your speaker cables to prevent them from coming loose while also ensuring a quality signal is delivered to your loudspeaker. Separate pairs of binding posts are available for the mid/high, low and subwoofer frequencies to allow for tri-amping or tri-wiring. The McIntosh logo on the front of the base plate can be illuminated green with the use of our Power Control technology found in our amplifiers, preamplifiers, integrated amplifiers and other products. Contact your local dealer to learn more.