Building a Home Theater Made of Sound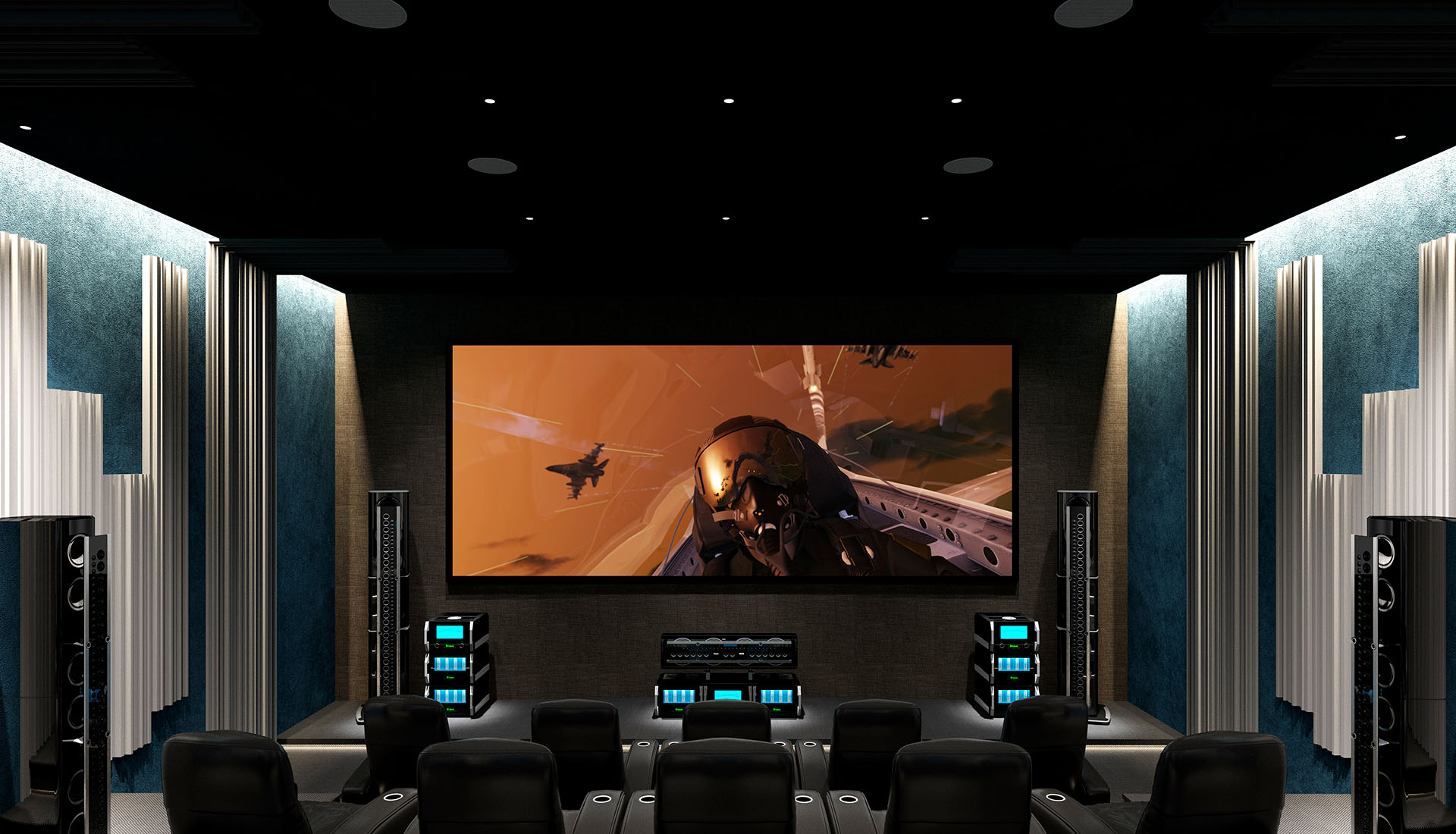 McIntosh Reference Home Theater System.
For almost 75 years, audiophiles worldwide have entrusted McIntosh to deliver the highest quality sound reproduction. We have helped power legendary performances such as Woodstock and the Grateful Dead's Wall of Sound, but we are also committed to handcrafting audio equipment that transports listeners through an exceptional sonic journey right at home. Recognized by Home Theater Choice magazine for our McIntosh MHT300 Home Theater Receiver, we pursue audio excellence from the stage to the screen. With the belief that sound is a full-sensory experience, we know that the ultimate home theater set-up relies on cutting-edge advancements in surround sound capabilities. With McIntosh, music and technology converge to create an unforgettable immersive experience that is truly "Made of Sound."
Sound That Creates the Scene
Replicating the cinematic experience at home is a multi-dimensional endeavor. Once only available in theaters, surround sound is crucial not only for a full-scale home theater, but also for experiencing the magic of movies in any room. By placing speakers in multiple directions and locations, surround sound artfully separates and amplifies audio elements to fully absorb the viewer in the direction and complexity of different cinematic sounds.
The A/V Processor is the conductor of the home theater set-up, orchestrating the audio and visual components in the symphonic experience of movie-watching. The MX100 A/V Processor, with 5 HDMI ports, is sleekly designed for digital-only inputs. With removable rack-mounting brackets, it seamlessly adjusts to tight, out-of-the-way spaces as well as front-and-center placement. For even more connectivity, the MX123 A/V Processor features 10 HDMI ports and a myriad of music streaming options. With the ability to upscale lower resolutions to 8K, this processor ensures the highest-quality visuals for depth, detail, brightness, contrast, and color in every scene. The 18-channel MX180 A/V Processor, with 7 HDMI ports and up to 64 input capability, sits on the edge of today's most advanced technology as well as tomorrow's innovations. It streams current 4K blockbusters and, with advanced customization and processing capabilities, it is ready for the increasing content available in 8K. Additionally, the RoomPerfect™ room correction technology adjusts to the acoustic characteristics of any space to evenly distribute sound. It is also adaptable to analog connections, including a Moving Magnet phono input for connecting a turntable.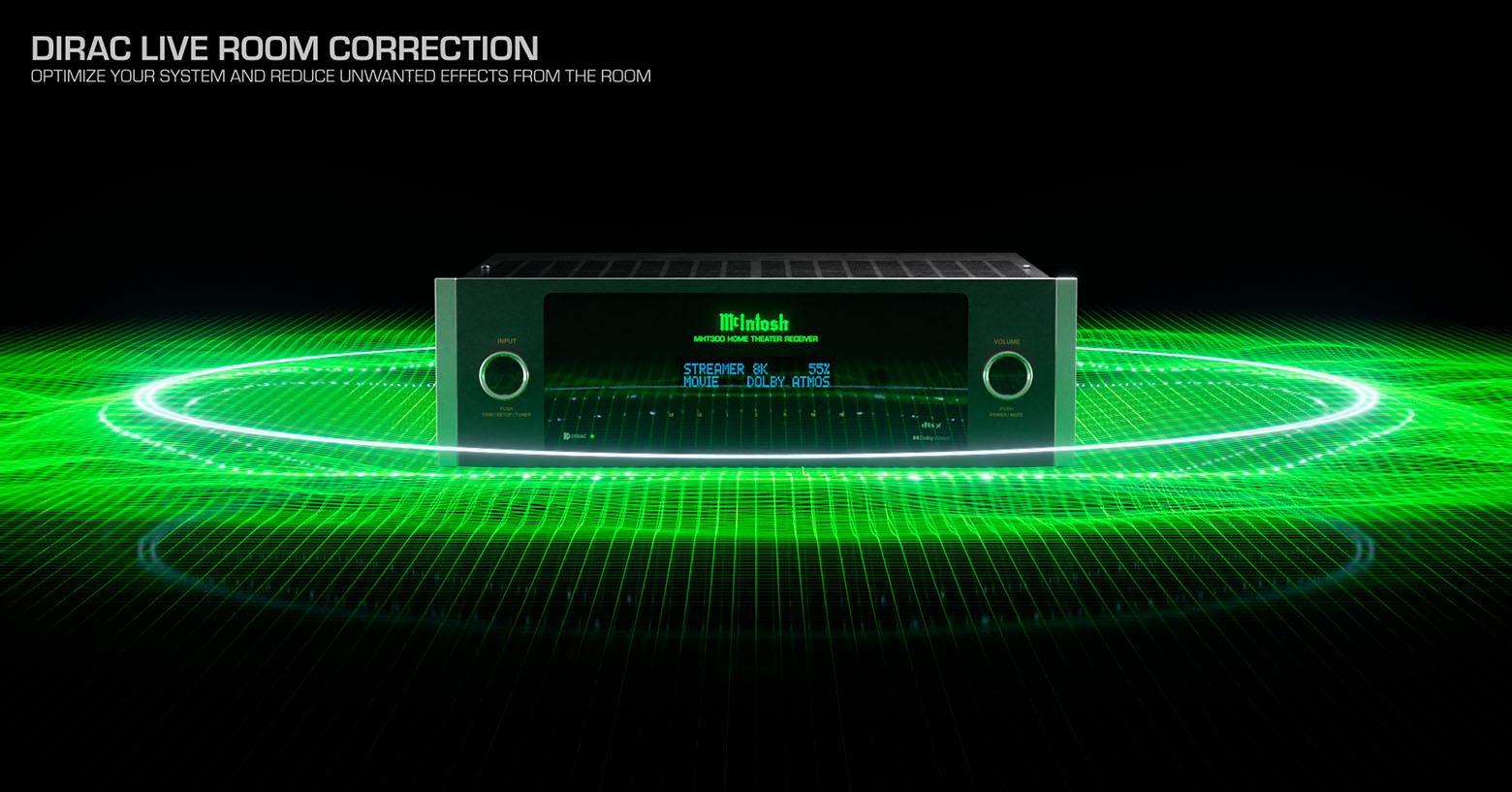 The MHT300 Home Theater Receiver includes advanced Dirac Live Room Correction.
While the customizable options for speakers are endless, a typical home theater set-up consists of at least five speakers: a central channel speaker with left and right speakers in both the front and rear. The LCR80 LCR Loudspeaker, even with its compact and versatile design, projects a remarkably full sound performance to a wide soundstage. Used as a central channel speaker, it is specifically engineered to deliver crystal clear dialogue. The XR50 Bookshelf Loudspeaker produces a powerful, rich sound in a compact package. Meanwhile, the XR100 Floor Standing Loudspeaker offers a classic yet contemporary look that carries an impressive range of audio reproduction.
To increase the sonic power of the home theater set-up, McIntosh offers amplifiers that deliver pristine audio purity and dynamic range. The MC255 5-Channel Solid State Amplifier and MC257 7-Channel Solid State Amplifier both feature the new TripleView™ Power Output Meter with three iconic McIntosh mechanical meters. The trademark blue glow adds a magical aesthetic to the home theater setup, but can also be turned off in order to avoid interference with the movie screen. The MC303 3-Channel Solid State Amplifier, our most powerful multi-channel amplifier, features our Autoformer™, which provides 300 Watts of power into each of its 3 channels, which are then delivered into speakers with astonishingly minimal distortion.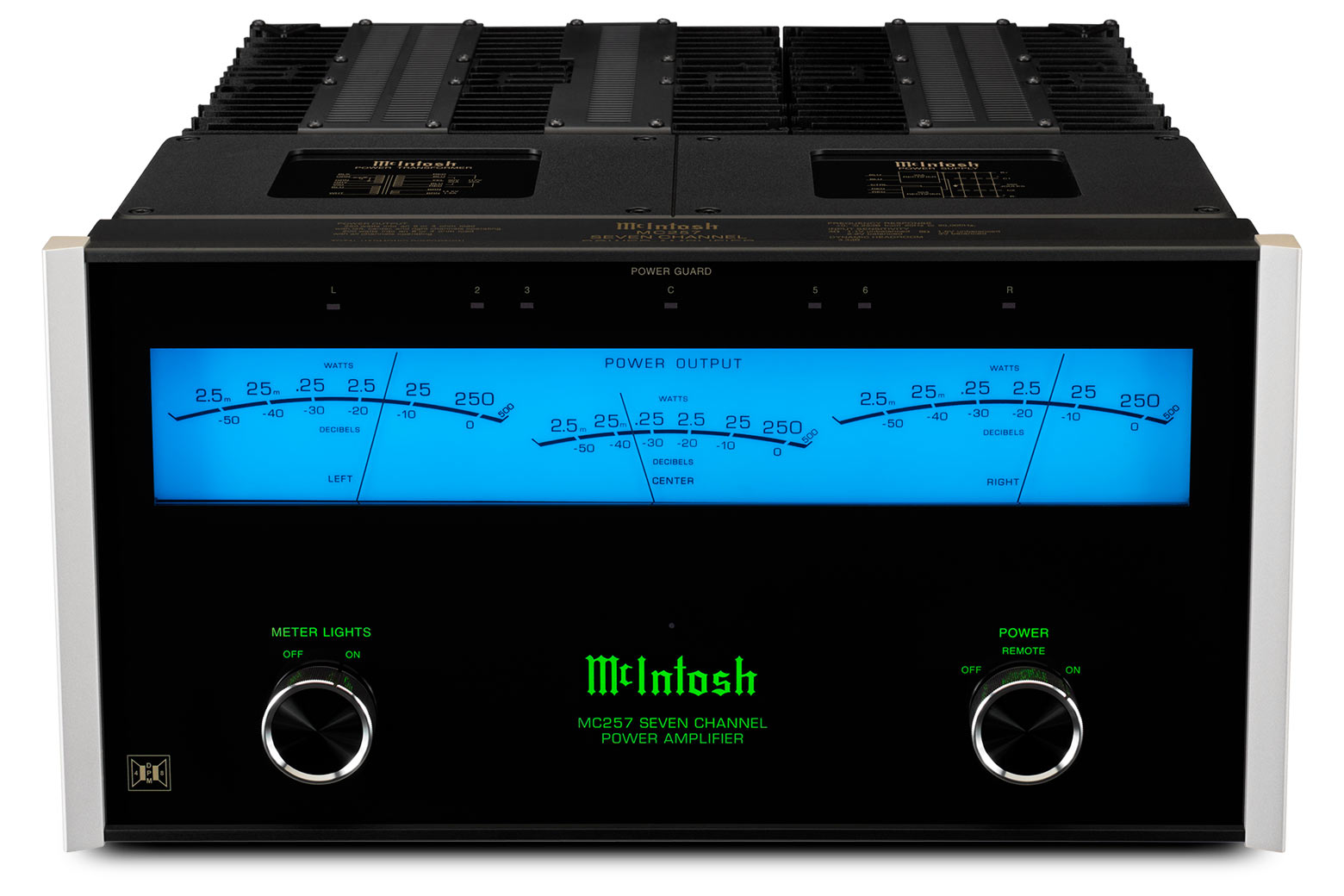 Preconfigured Powerhouses
Fully immersive pre-configured systems such as the Westchester series provide tiered options to match different spaces and requirements. With four different collections, the systems are also fully customizable, with the ability to mix and match components like the McIntosh MX-series processors, MC-series amplifiers, and XR-series loudspeakers.
The Westchester I System, comprised of 19 individual components, powers 6,400 Watts through an 11-channel surround sound that includes a processor, power controller, amplifiers, a central channel speaker, floor standing loudspeakers, and in-wall and in-ceiling loudspeakers. For smaller spaces, the Westchester II System provides a 7-channel surround sound for exceptional playback. Perfect for multi-functional spaces, the Westchester III System also delivers a 7-channel surround sound that transforms any room into the ultimate personal theater. Finally, the Westchester IV System is a streamlined Custom Install home theater that supplies legendary performance with in-wall and in-ceiling loudspeakers designed to be heard but not seen.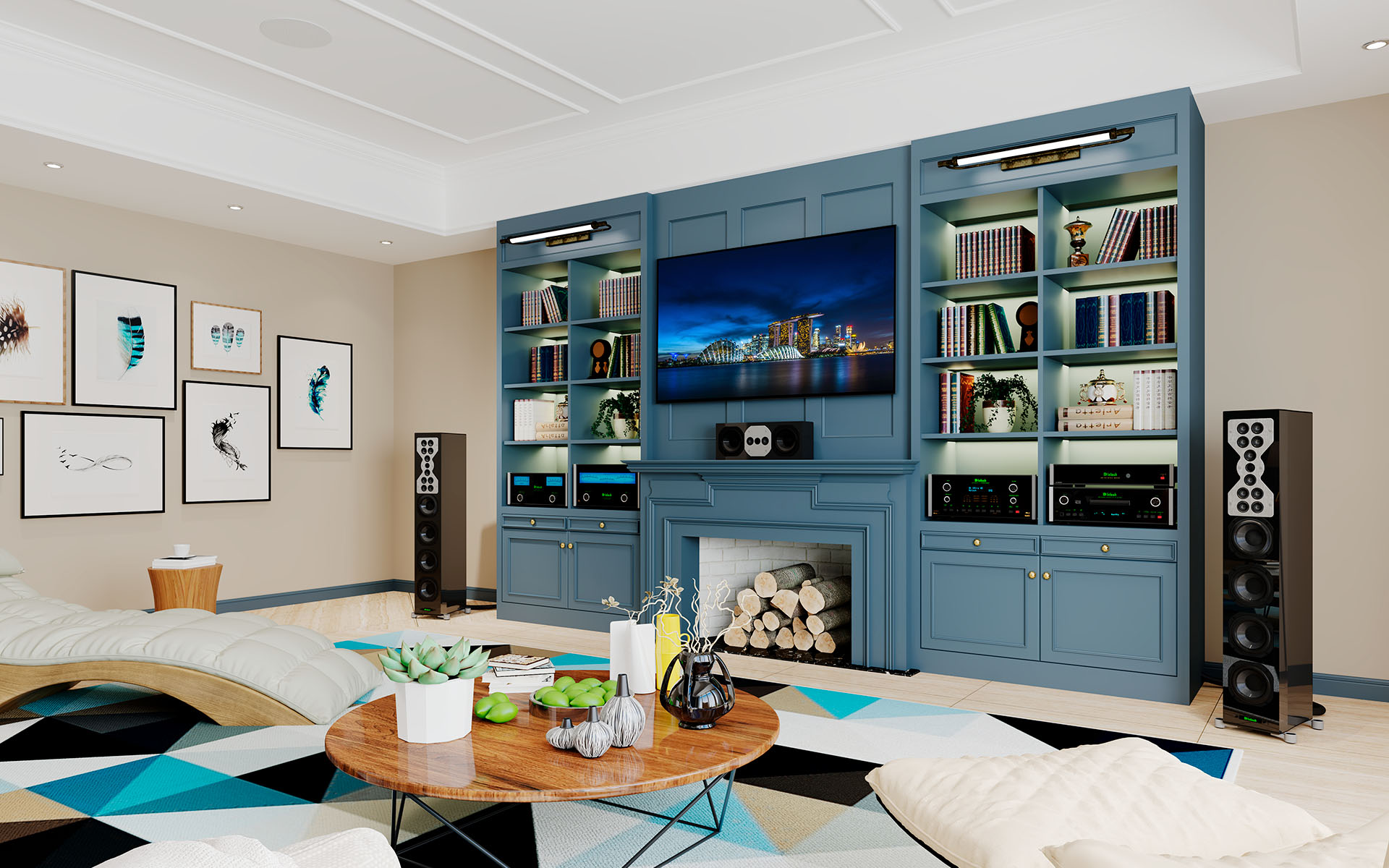 The Westchester II Home Theater System.
For the most discerning audio enthusiast and impassioned cinephile, the McIntosh Reference Home Theater System presents an unparalleled cinematic soundstage. With over 10,000 Watts flowing through seven high-performance loudspeakers, every seat in the room will be enveloped in a movie experience that sets the standard for all other viewing. Blending iconic vintage style with state-of-the-art technology, the Reference System is the pinnacle of sound performance with high-end audio that rivals a sound experience found inside or outside the home.
Customizable Sound to Complement Any Space
Beyond the basic set-up, audiophiles and movie lovers can sonically optimize any room with our Custom Install solutions. Our home theater line of Custom Install products include rack mountable Audio Distribution Amplifiers, A/V Processors, In-Ceiling Architectural Speakers, and fully enclosed In-Wall Speakers with controlled air chambers that minimize distortions.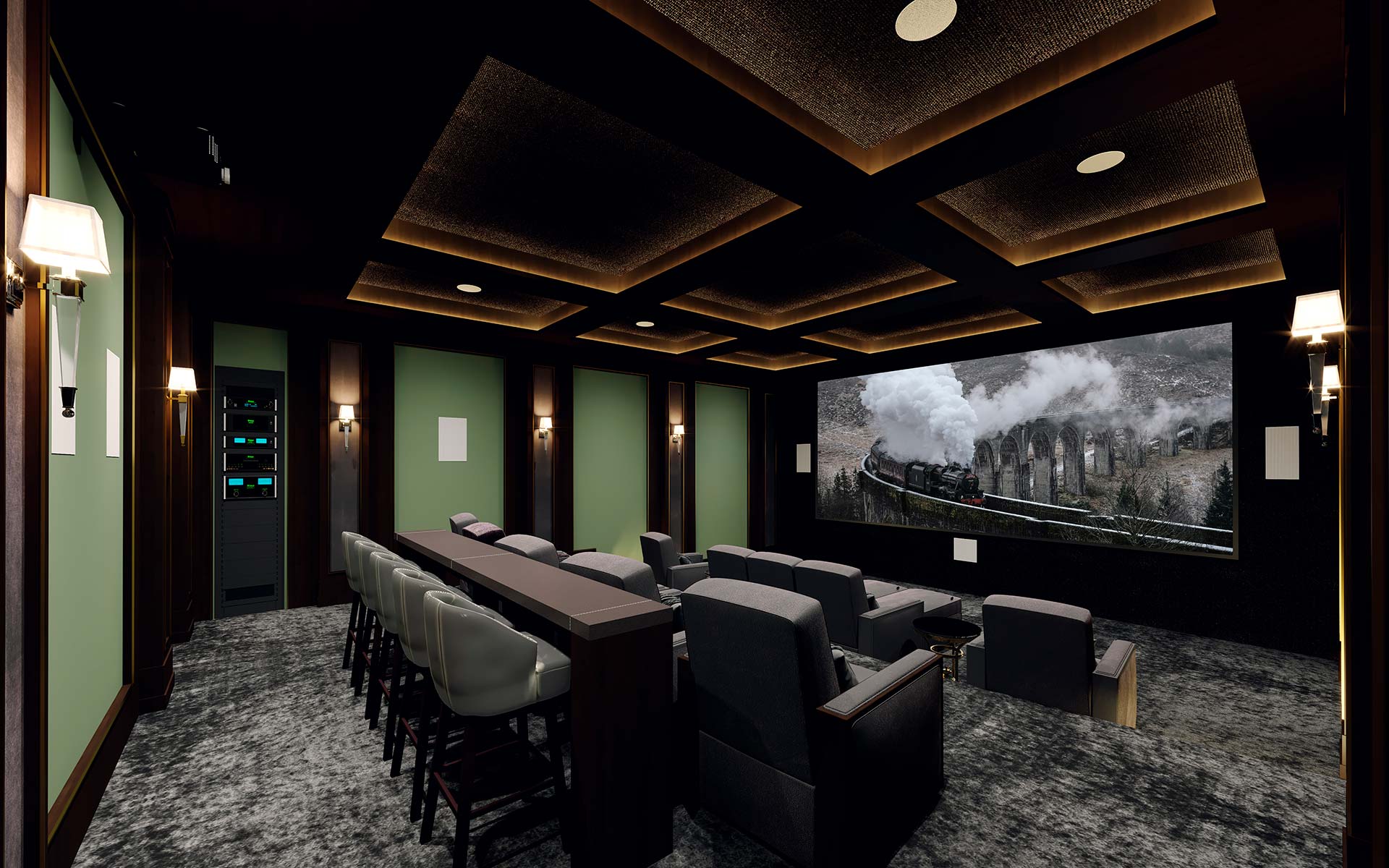 The Westchester IV Home Theater System.
Every space is as unique as those occupying it, and the sound that fills it should be crafted to match. A Custom Installation dealer is the perfect guide to building a robust system tailored to any individual space. These professionals understand the intricacy of sound and how to embed speakers, wire cables through walls, and match the personal aesthetic already native to the home.
Leading The Industry in Lasting Legacies
At McIntosh, we are committed to bringing sound to life, crafting an experience that is fully-immersive, multi-dimensional, and full-sensory. Whether we are powering legendary performances for a crowd or bringing dreams to reality for more intimate viewings, we are proud to offer the most extensive product range in the industry. From the stage to the screen, we deliver pure audio quality in iconic packaging built with a promise to last from generation to generation. Contact your local dealer to learn all about bringing an unparalleled home theater into your house.