McIntosh MHT300 Home Theater is Highly Recommended by Home Theater Choice Magazine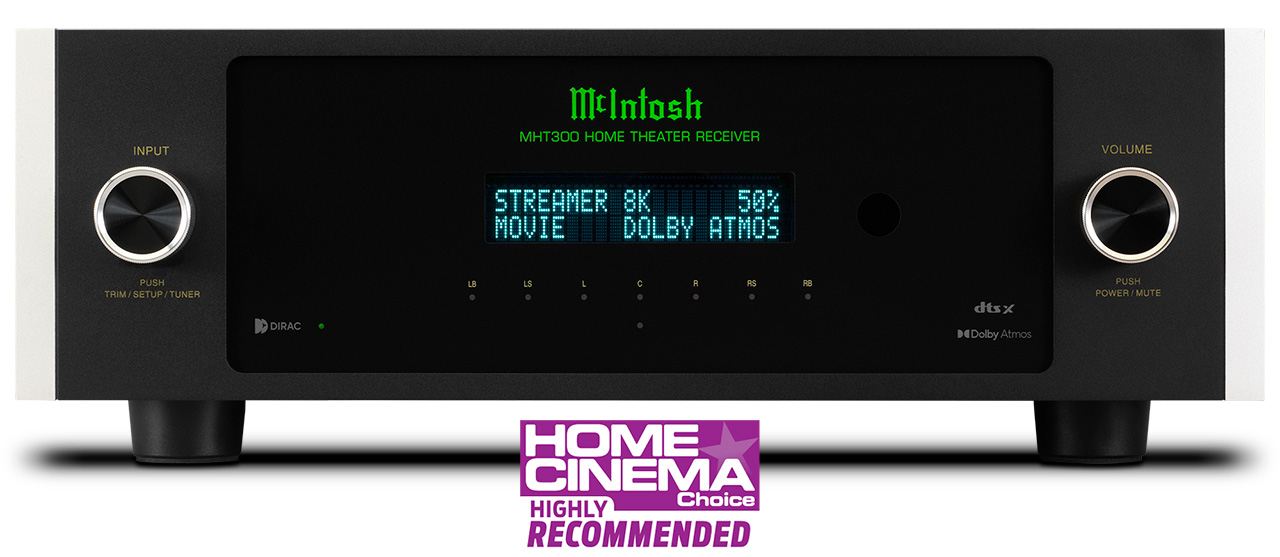 The McIntosh MHT300 Home Theater Receiver (also known as an AV Receiver or AVR) is an uncompromising 7.2 channel home theater powerhouse. It's filled with must have home theater technologies like 8K/60Hz and 4K/120Hz video support; leading home theater surround sound audio formats Dolby® Atmos and DTS:X™; and advanced Dirac Live® room correction. But best of all, it delivers 120 – 150 Watts of McIntosh power to every one of your home theater speakers – something most other home theater receivers can't do as they only send full power to one or two speakers and the rest receive a much lower amount of power. With the MHT300, your home theater dreams can come true.
Steve Withers of Home Theater Choice magazine gave it their Highly Recommended award after reviewing it. The "user-friendly" software of the "seriously sexy" MHT300 made setup easy. On the restored Ziggy Stardust movie, the MHT300 gave a "powerful, responsive and revealing" delivery of the full-bodied soundtrack. In Kong: Skull Island, the MHT300 "proved capable of creating an exhilarating sense of scale" of the complex Dolby Atmos mix "even when all seven channels are driven simultaneously."
After enjoying a few more titles through the MHT300, Withers stated the "MHT300 is an outstanding multichannel AV receiver, capable of generating a complex and powerful soundstage with an emphasis on sheer scale." In giving it their Highly Recommended award, he added, "Its amplification is highly responsive to dynamic peaks, and the whole performance is shot through with clarity and precision."
Click here to read the full review.
(Excerpts taken from original review by Steve Withers / Home Cinema Choice / October 2023 / Issue 345.)