3rd U.S. McINTOSH EXPERIENCE CENTER OPENS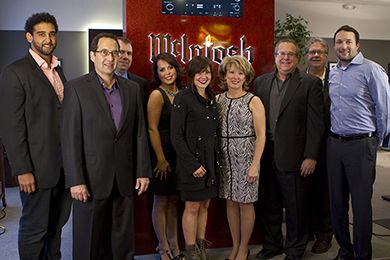 (L-R): McIntosh Marketing Manager Ellis Reid, David Watson, Matt Chapman, Allie Watson, Jessie Nieves, Dawn Marcus, Larry Marcus, Mike Pecar and McIntosh Director of Sales - East, Chris Smith were on hand for the Grand Opening event.
Binghamton, NY - Paragon Sight and Sound of Ann Arbor, MI joined the list of dealers with a McIntosh Experience Center located within their showroom. The McIntosh Experience Centers offer customers a chance to see how a McIntosh system would look in their space, with the MXA60 system on display as well as the a larger SoHo Two-Channel and Westchester Home Theater systems. A Grand Opening event was held November 30th - December 1st, 2012, with McIntosh personnel on hand, along with invited guests. Musician Jetty Rae capped the night with live, in house concert.