McIntosh Craftsmanship
What does it take to make a McIntosh?
Experience. Passion. Craftsmanship.
The talented individuals at McIntosh are dedicated to design and build the finest quality home audio products in the world. In our 70+ years of experience, McIntosh has defined quality sound reproduction and set the standard for performance, reliability and service.
A new McIntosh model takes many months or even years to go from initial concept to final product. Along the way, it is meticulously engineered and continuously refined until it meets our exacting standards. Then our employees' skilled craftsmanship is combined with our vast manufacturing capabilities to turn those designs into revered home audio products.
Scroll down to take a look behind the scenes and see exactly what goes into making a McIntosh.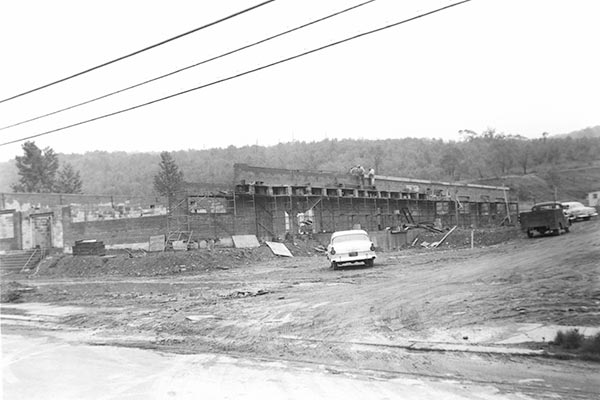 Though founded in 1949, our current factory located at 2 Chambers Street in Binghamton, NY was built in 1956 and we've been at this location ever since.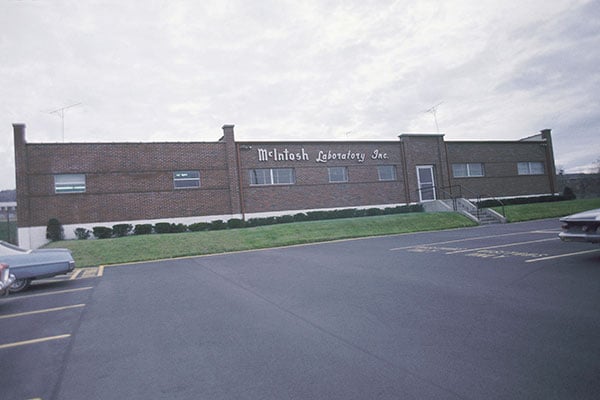 The front of the factory circa 1964. The factory looked like this until the mid-2000s.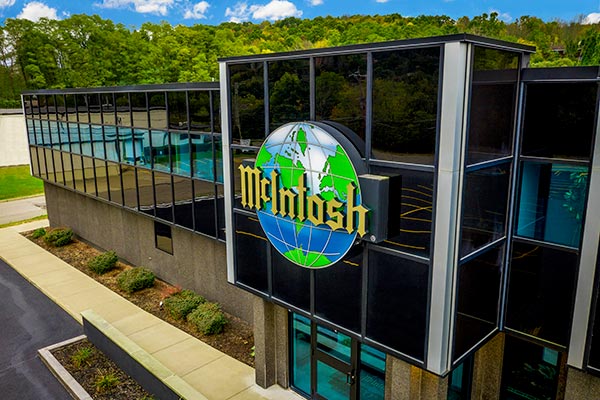 In the mid-2000s an addition was added to the front of the factory containing the main lobby, training room, listening room, and office space. The exterior resembles a McIntosh amplifier.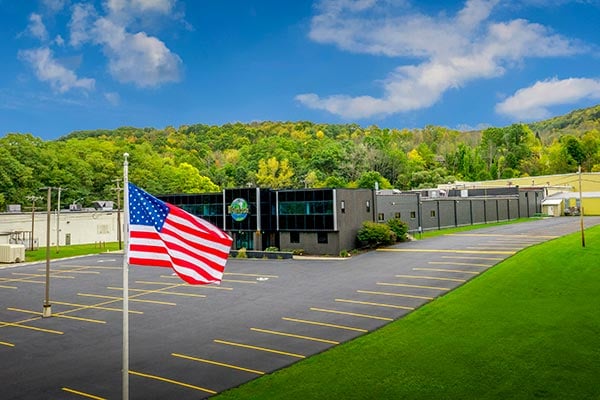 McIntosh is proud to be a Made in the USA company.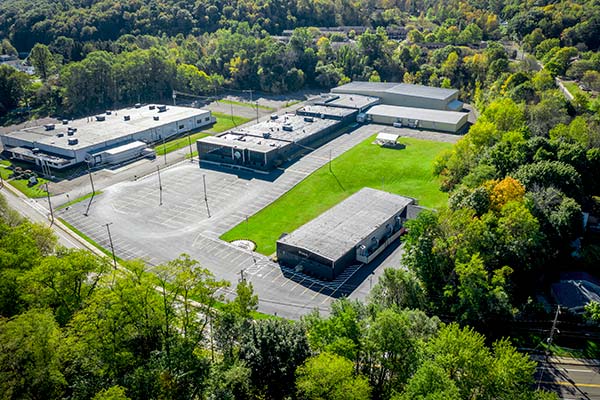 Aerial view with our main factory shown in the center with the Service Department and Warehouse wings on the rear of the building. The building on the right was not a part of the original McIntosh property but was acquired in the early 1970s; today it is home to our Engineering Department. The building on the left was used at one time by McIntosh but it is now owned by a separate company and is not part of the McIntosh facility.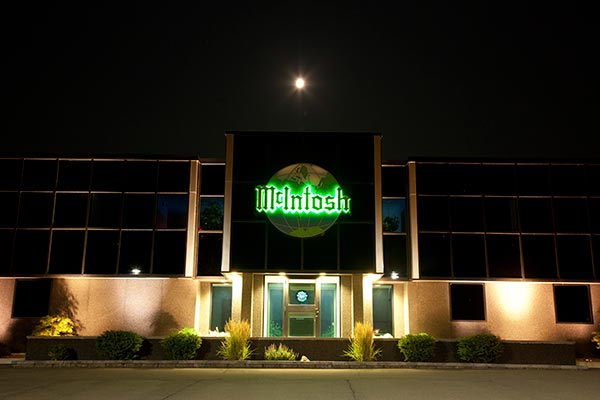 The front of the building at night.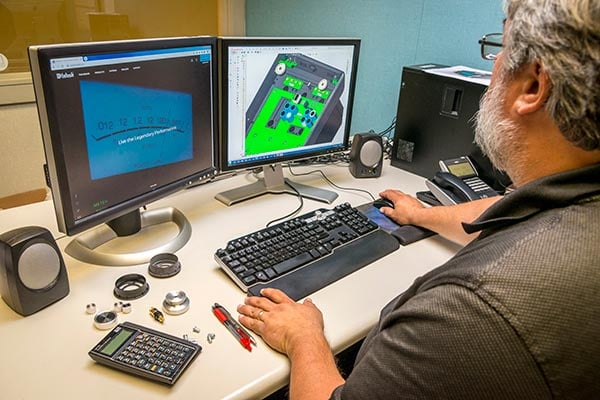 Once a product concept is determined, our team of engineers begin the design process. Our Engineering Department includes mechanical, electronic, acoustical, software, and industrial design departments along with dedicated support staff.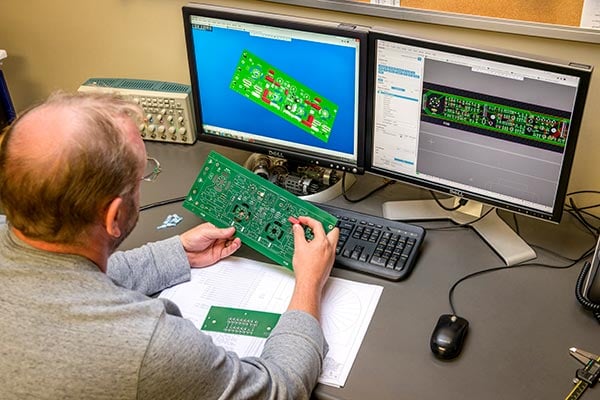 Working together in unison, each department contributes to the finished product.
To meet high volume demand, most of our printed circuit boards (PCBs) begin the component population process on our Surface-Mount Technology (SMT) line. Our SMT line consists of: a solder paste dispenser that applies a thin layer of solder paste to the surface of the PCB to hold the components in place until they are soldered; three state-of-the-art Advantis® machines featuring Lightning Heads and InLine7 Heads from Universal Instruments, a global leader in advanced automation and assembly equipment; and a high-throughput reflow oven.

Reels of various electronic components to be placed onto the PCBs by one of the Advantis machines.

The Advantis machines in our SMT line are capable of precisely placing 18,000 electronic components per hour onto PCBs. The components are then soldered to the PCBs via the reflow oven that can reach a maximum temperature of just over 500° F (265° C). The reflow oven turns the solder paste into liquid solder that once cooled creates permanent solder joints.

We also use Through-Hole Machines to place components with wire leads into holes in the PCBs.

Reels of capacitors ready to be installed by our Through-Hole Machine configured for components with radial leads.

Reels of resistors loaded into our Through-Hole Machine configured for axial lead components are ready to be installed into the PCBs. They look a little bit like strands of audio DNA being inserted into our products!

Some components are placed onto the PCBs by hand due to their size, shape, or temperature sensitivity.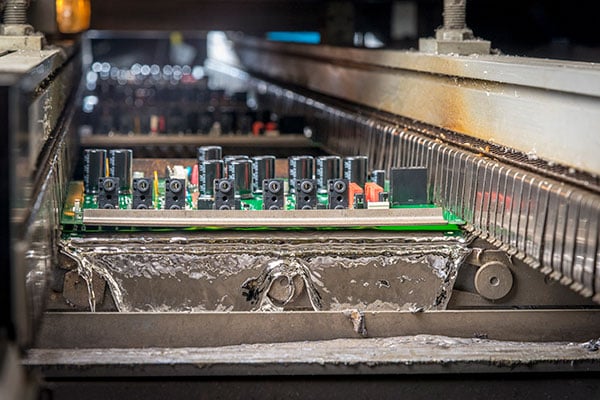 Through-Hole placed components are soldered to the PCB via Wave Soldering, a bulk soldering process where a circuit board is passed over a pool of molten solder. A pump then produces an upwelling of solder that looks like a standing wave.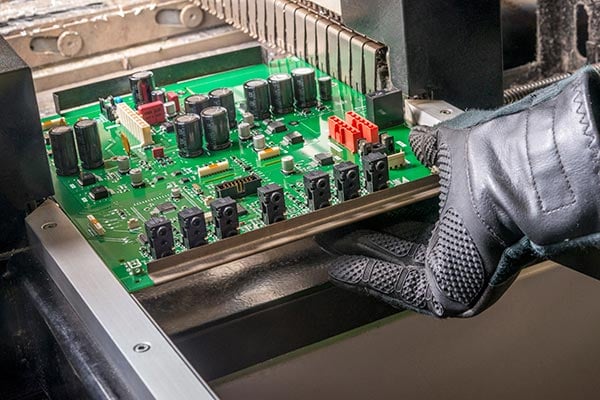 This allows all the components to be soldered at one time.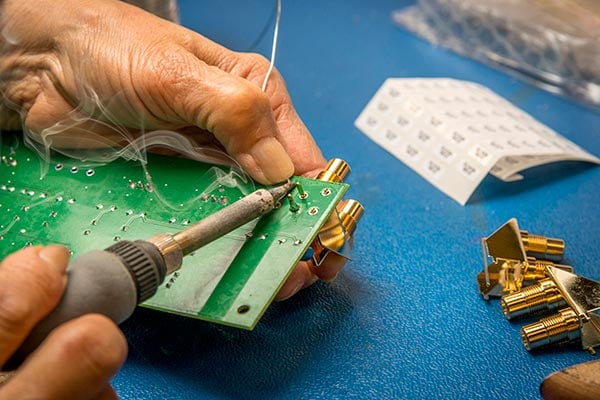 Even with our automated PCB population and soldering capabilities, there is still a lot of hand soldering performed on temperature sensitive components or components too large for any of the machines.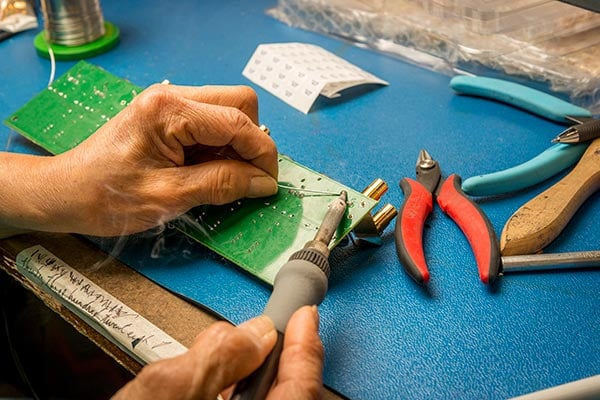 Many of our technicians have received IPC® Training and Certification in the best practices of soldering.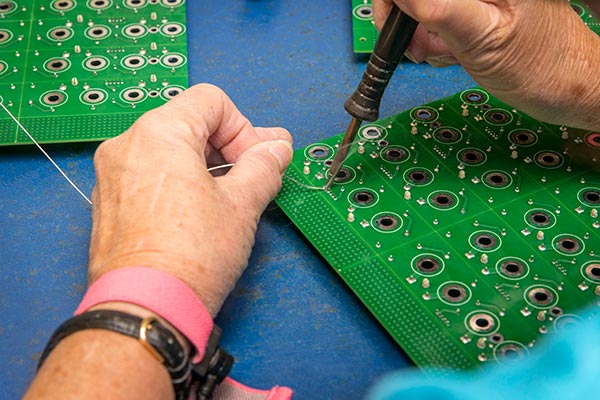 Our soldering irons are thermostatically controlled to ensure the best solder joints possible based on the components and the PCB.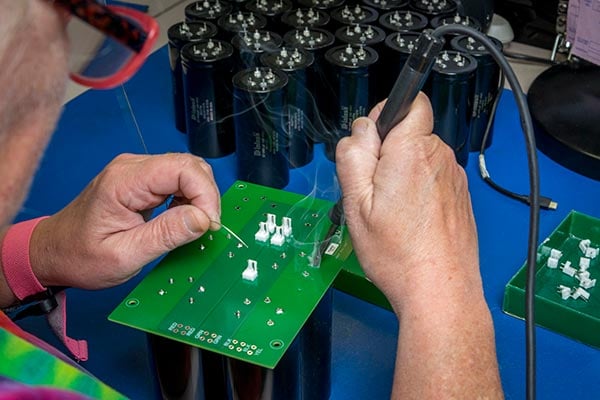 All of our solder is lead free to conform with international environmental regulations.